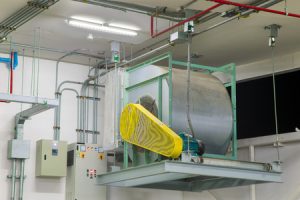 Do you have an industrial business? How can centrifugal fans help it?
Air Pollution
Centrifugal fans look like "squirrel cages." They draw air into the center of the fan and then exhaust it at a 90-degree angle. These types of fans are easily and quickly made, so they can save a company a lot of money on production costs.
With their great aerodynamic properties, centrifugal fans are often used to improve airflow in HVAC systems. They have the ability to reduce/collect particles, so they're especially useful in systems dealing with air pollution.
Energy Efficiency

In general, centrifugal fans can benefit industrial businesses in numerous ways. For starters, they are energy efficient. If you need to sustain larger air systems, expect that constant airflow will allow your centrifugal fans to generate energy that reaches up to 84% static efficiency. Next, these fans are strong and durable. They're able to operate even in corrosive or erosive environments.
Easy to Clean and Maintain
Also, these fans have motors that won't overload if capacity is exceeded. Meanwhile, centrifugal fans are easy to clean and maintain. And they're versatile– able to handle clean, dry and/or wet air. Use them for multiple airflow/pressure combinations. Finally, centrifugal fans come in many different sizes so they're even able to fit in tight spaces or hard to reach areas.
Dynamic Fan of Pine Brook, New Jersey, is in the business of sending, installing and servicing a wide array of industrial centrifugal fans and blowers. We're here to meet your specific needs
In addition, we can provide you with replacement parts such as motors, bearings, pulleys, belts, and shafts, and can perform routine maintenance on your centrifugal fan/blower. If you have a question or concern about industrial centrifugal fans and blowers, please call Dynamic Fan at 973-244-2422. You can also use our contact page, here.