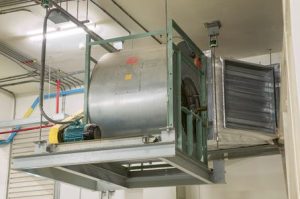 Do you own or help run an industrial business that could benefit from having cleaner air inside of it? Whether you want to eliminate dust from the interior of your property, filter exhaust fumes, or simply get rid of particulates that can pollute the air in many workplaces, a centrifugal fan might be the solution to your problem. Centrifugal fans are designed to diffuse and clean air and are a necessary tool for those who are forced to deal with dirty air on a routine basis.
The Benefits of Centrifugal Fans
You will enjoy many benefits when you install a centrifugal fan in your place of business. For starters, centrifugal fans are extremely versatile and can handle all kinds of different airflow conditions. Centrifugal fans are also very durable and can operate in even the most corrosive environments. You won't have any trouble maintaining your centrifugal fan, as they are typically made out of lighter materials that can be cleaned easily. Moreover, you can find centrifugal fans in a variety of different sizes, so you won't have to worry about finding a place to put it, as they can often be placed in tight spaces where they will be able to do their job and keep the air in your business clean.
Dynamic Fan carries a range of different centrifugal fans and would be more than happy to show you what we have in stock so that you can pick the one that works best for your business. We can speak with you about your specific needs and help you pick out the centrifugal fan that will meet them best. We can also provide replacement parts for an array of industrial centrifugal fans and maintain your fan for you regularly.
Call us at 973-244-2422 today to speak with a representative about how a centrifugal fan could benefit your business at the moment.