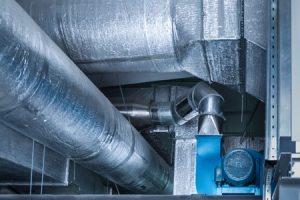 Are industrial fans the same as commercial grade fans? While somewhat similar, they have some differences in terms of size, variation(s), use and durability.
Industrial is Far Superior to Commercial Grade Fans
Industrial fans are usually large and centrifugal or axial. When centrifugal, air is concentrated toward the core. When axial, air is directed outwards.
Commercial grade fans tend to be made from light gauge sheet steel, or perhaps plastic and metal. They can be bolted and mounted into their base motors. While commercial grade motors are strong, they're less durable than industrial ones.
Commercial fans can come in a variety of designs and colors, while industrial fans lack some design flexibility. Industrial fans tend to be physically bigger in size compared to commercial grade ones, and because of that they have a limited set of finishes. Typically made from heavy gauge cast aluminum or stainless steel, industrial fans value function over aesthetics. They're welded to ensure strength over time, and they're more rigid than commercial grade fans.
Which lasts longer? Typically, industrial grade fans have a lifespan of 10 years while commercial fans last 4 years. If you were to visit large warehouses or factories, they'd probably use industrial fans, whereas restaurants and gyms would use commercial grade fans.
If you're choosing between industrial and commercial fans, take into account electrical needs, noise levels and more. You can talk with someone from Dynamic Fan to help understand the differences between fans you're most interested in– just call 973-244-2422. You can also use the online contact form here.
To see information about commercial fans from Dynamic Fan, visit here. And to see information about industrial fans, check out this page.
Dynamic Fan is located at 10 Bloomfield Avenue, Suite 6, in Pine Brook, New Jersey, near New York City. On site service is available in New York City, nearby New Jersey, and Scranton, PA.