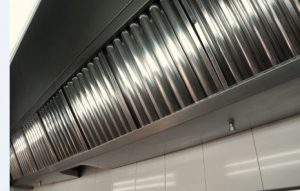 If you own a restaurant in the United States, you are required by law to have your kitchen exhaust cleaned on a regular basis. This is because when you use the stove in your kitchen, exhaust gases will be pulled up through the hood and ductwork over time and a grease residue will often build up on the ductwork as well as the fan that is used to pull the gases out of the kitchen. Depending on what type of food your restaurant specializes in, you may find heavy black greases, sticky grease, or even soot and ash on your exhaust fan. Cleaning it is the only way to prevent the problems that can come along with failing to remove it.
The biggest risk associated with grease that builds up inside of an exhaust hood and on a restaurant fan that is used to pull gases out is a fire. Studies have shown that about one in three restaurant fires start as a result of grease. If a flame flares up on your stove and fire comes into contact with any of the grease residue located in your hood, on your ductwork, or on your fan, it can lead to a large fire that will spread very quickly. Grease fires are notoriously hard to put out since grease can actually serve as a fuel for them and cause them to grow larger, so the absolute last thing you want is to have one of these fires start when the inside of your exhaust is covered in grease. Cleaning your entire exhaust system, including your restaurant fan, reduces this risk dramatically and will protect you, your employees, and your entire restaurant.
There are other advantages to cleaning your restaurant fan regularly, too. It will make your kitchen more comfortable for your cooks, prevent warm air from escaping out into your dining area, and even reduce the unpleasant smells that can sometimes come along with cooking. Dynamic Fan can help you to keep your restaurant fan clean, regardless of how big or small your restaurant is, and also make repairs to it if you should ever find that it's not working properly. Call us at 973-244-2422 today to schedule a cleaning or a repair appointment.