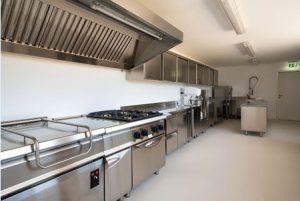 Most people never see what goes on behind the scenes at restaurants. They sit in the dining room and enjoy their meals, having no idea what happens in the kitchen. If you've never worked at a restaurant, you probably don't realize that there's a beehive of activity "back there," where you've got cooks, dishwashers, servers, managers, as well as ovens/stoves, freezers, fridges, prep tables, and much more.
In order to keep employees and customers safe from harm, it's important that commercial kitchens utilize fans. In particular, commercial kitchen exhaust fans matter because they keep the air free of contaminants while creating a comfortable environment. They also reduce the risk of fire. Restaurants utilize vent hoods, hood filters, ductwork and exhaust fans in order to operate properly.
Two Types of Fans
There are two basic types of exhaust fans restaurants use: upblast and/or down blast fans. How would a restaurant determine which one they should get? Well, that depends on the type of cooking and the type of fuel used for cooking.
Upblast Fans
Upblast fans are used to get rid of fat, grease and oil effluent as well as smoke, heat, odors and moisture. These types of exhaust fans pull hot air, grease, oil, smoke and more up through hood filters and vent hoods and the duct system. So, if your restaurant cooks with fat, oil, or grease, or with a wood/charcoal burning stove/oven, then the upblast fan is your logical choice.
Down Blast Fans
Down blast fans aren't meant to get rid of exhaust heat or moisture. They exhaust the air in a downward blowing direction. Use down blast fans to provide continuous exhaust of stale indoor air, to best ventilate your restaurant's general air.
Dynamic Fan Is Here to Help
Dynamic Fan of Pine Brook, New Jersey, can help outfit your restaurant with the appropriate exhaust fans. We have years of experience in helping businesses in a wide range of industries with all of their industrial fan needs. In fact, we provide installation, maintenance, consultations, repair and retrofit services. Notably, we have worked with restaurants of all sizes to help them find the right exhaust fan for their kitchen.
Without question, the exhaust fan does more than just cool a hot restaurant kitchen; they also help reduce the smell of foul odors (from food, burned food and other aromas), they help improve indoor air quality, they help remove grease, and they can even help restaurant's' bottom line, since the right exhaust fan helps with energy costs and limits the working damage of HVAC systems.
Without question, investing in the right restaurant exhaust fan is one of the most prudent things restaurant owners or managers can do, and our helpful staff can either help you determine which one would best suit your needs, or can repair your current restaurant exhaust fan to make sure yours is working seamlessly. You'll have peace of mind at night know the exhaust fan in your restaurant's' kitchen is as working as hard as you do!
For more information, please call 973-244-2422 for more information or use the online contact page, here.